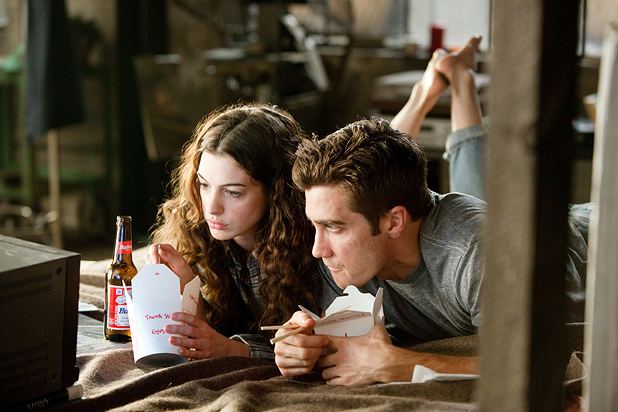 Dua orang yang urakan dan ugal-ugalan punya alasan berbeda. Jamie Randall (Jake Gyllenhaal) tidak ingin membuat ayahnya puas meski ia terbukti cerdas sehingga keluar dari sekolah kedokteran. Toh, daya pikatnya berhasil melariskan barang-barang elektronik di toko tempatnya bekerja meski suatu ulah membuat Jamie dipecat.
Maggie Murdock (Anne Hathaway) divonis Parkinson tahap satu di usia 26 tahun. Ia tidak ingin menjadikan hidup sengsara, bersenang-senang dengan caranya sendiri berupa hubungan intim satu malam atau percintaan tanpa komitmen. Anehnya, sikap blakblakan Maggie justru memesona Jamie si playboy.
Ini film Anne Hathaway paling berani yang pernah saya tonton. Yang saya sukai, dialog-dialognya yang sarkastik dan potret dunia medis tempat Jamie  menceburkan diri sebagai sales representative. Strategi ajaran rekan seniornya, Bruce (Oliver Platt) dipadukan Jamie dengan trik merayu perempuan guna menggolkan tujuan dan mencapai target. Secara terang-terangan, seorang resepsionis dokter menyampaikan bahwa dokter itu hanya menerima sales baru yang menawarkan makan siang. Kemudian ia mengulurkan jadwal kosong lima minggu setelahnya, berikut daftar makanan kesukaan sang dokter.
Di lain pihak, ada dokter yang mengeluhkan sisi-sisi berat misinya menyelamatkan nyawa orang lain. Khususnya ketidakpercayaan pasien yang sudah mengecek di internet.
Semua itu menjadikan Love and Other Drugs relatif lebih istimewa daripada No Strings Attached dan Friends With Benefits yang temanya mirip. Saya juga suka lagu-lagu soundtrack-nya yang jadul (tahun 80-90-an), seperti yang satu ini:)
Gambar pinjam dari sana
Skor: 3,5/5
---
Istri, penggemar thriller psikologis, menulis untuk bersenang-senang.
Ngeblog bukan "guilty pleasure". Blog-lah rumah, sedangkan jejaring sosial hanya pos ronda.
---